» WordPress hosting by Nose Graze
About
Book Host: the only managed WordPress host specifically for book bloggers.
We know exactly what you need because we're book bloggers too!
About Book Host
Book Host was founded in 2014 by Ashley. As a book blogger and a freelance web developer, I have been hired many times to move bloggers from Blogger to WordPress. I realized how intimidated people were by the move.
They were afraid of losing their posts.
They didn't know how to install WordPress.
The idea of renting web hosting just sounds so complicated and scary.
And once they got into WordPress, they were overwhelmed by plugins and other options. They didn't know how to install them, or which ones they should get.
I understood this and aimed to simplify it for the book blogging community. I teamed up with my fiancé—a server expert—to turn this idea into a reality.
With his help, I was able to create my dream web hosting business. To make things as simple as possible, I completely eliminated the "install WordPress" step. I also compiled a list of all the "must-have" plugins for book bloggers and pre-installed them. This makes Book Host one of the simplest WordPress hosting options available. There's no set-up process, no intimidating control panel or installation programs. Just buy your hosting package, login to WordPress immediately, click "Activate" on the plugins you want, and start blogging!
Why go to different sites for different kinds of help when you can just use one?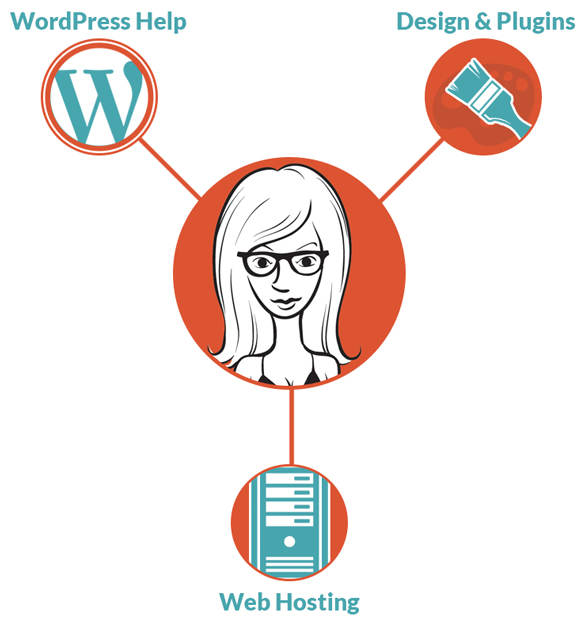 Don't use three sites for three different needs.
Other web hosts don't offer everything in a central location. When you buy web hosting, that's all you get—a hosting account. Then you have to go to separate sites for:
A blog design
WordPress plugins
General WordPress help
Go back to the theme designer if you have problems/questions
Trying to juggle three support centers for three different topics—yikes!
Seems like a hassle, huh? And the worst part is that none of these communicate. Your designer may not know anything about your web host, the plugin creator may know nothing about the themes, and if you're asking for WordPress help the person you're asking isn't connected to any of those!
What a headache!
---
We have all you need in one place.
At Book Host, we have all your needs under one roof.
When I'm not managing a web host server, I work as a freelance web designer and developer. I sell pre-made WordPress themes on Nose Graze and I'm also the creator of the Ultimate Book Blogger Plugin. With Book Host, you have access to all of these creations.
If you sign up with Book Host and choose to use the UBB plugin and one of the Creative Whim themes, then you can get all the support you need from one person. I can help you with any web hosting questions, plugin issues, and theme/design questions all at the same time!
Your theme-maker, plugin creator, and web host all in one place.
With our service, you don't have to go to three different people to have all your questions answered. You only need to go to one.
Everything you need in one central location.
Simplify your blogging life.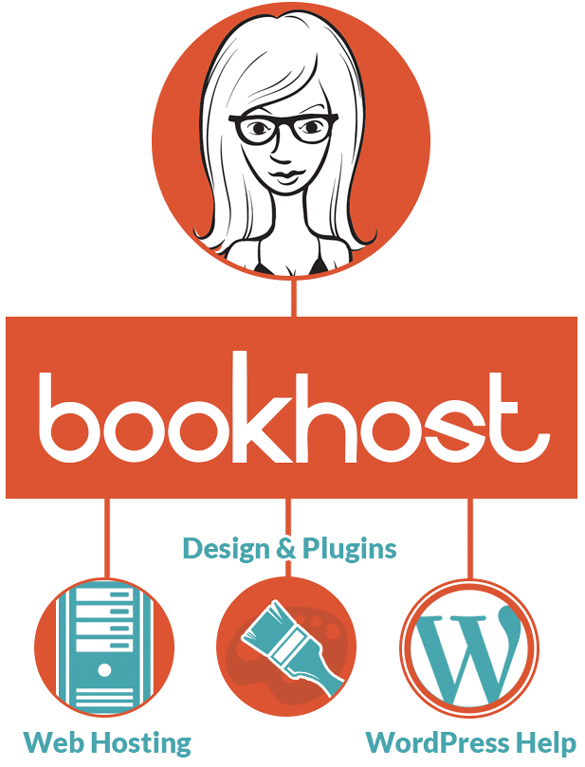 The Support Team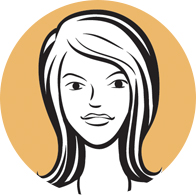 Ashley
Founder / WordPress Guru
Ashley is the founder of Book Host, a WordPress guru, and a plugin/theme developer. She runs the book blog Nose Graze and sells pre-made WordPress products. She's the main face of the customer support team and will help you with any WordPress questions, plugin issues, or theme queries.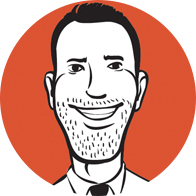 Peter
Server Guru
Peter is the Book Host server guru. He performs most of the server set-up, security, and maintenance tasks. Peter mostly exists behind the scenes. He will ensure the server is always online and running at optimal speed. When not spending his time being a coding god, he can be found kicking ass in Team Fortress 2.
A letter from Ashley
As a book blogger myself, I like to think that I know exactly what book bloggers want and need from their WordPress installation. That's why I've put together Book Host with pre-installed plugins, themes, and guides, specifically for book bloggers.

Above all, I offer my clients a personal touch. When people move from Blogger to WordPress, not only do they have to worry about the transition itself, but they then have to struggle with learning a whole new platform. Most web hosts won't be there for you when you start asking WordPress questions, because if it's not a server issue it's "not their problem". But I want to provide my clients with a combination of hosting/server support and WordPress knowledge. I do my best to offer them the best of both worlds.

Since this business is a two man team, I sadly cannot guarantee amazing 5 minute response times to customer support. But I always do my best to respond to tickets within 24 hours and provide quality help and advice. My customer service on Nose Graze has already been praised, and I'm bringing that same level of service to Book Host.

So sit back and relax. Let me do all the hard parts for you so you can do what you really want to do: blog.